Update 08/05 : Added Replicant vol 4, Vocaloid CV 1, urbanista earphones, Corrupt Garden (R18G), Excel Saga – Misaki Matsuya figure, some RAM stick, random networking stuff, a DuoScreen, PSP, and random anime goodies
Update 14/05 : Added some manga + some doujin things + 2 queen's blade figures + details update on figures + random shit
As Epitanime 2013 is coming close, I'll put some things to sell.
As said on twitter, if you want me to bring something to Epitanime, just ask. I'll bring things to sell at the Epitanime second-hand shop, but buying them there means you won't be able to negotiate the price / get a discount for multiple items / the price will be higher since Epitanime get its commission. Just sayin'
Plus, I won't bring any R18 content except if you ask for it. If you're here, you know how to contact me.
Everything will be sold on a first come first served basis.
Legend :
A : new / as new
B : slightly dented / lightly scrapped
C : dented
D : damaged / sold as is
French version : Comme dit sur twitter, si vous voulez que j'apporte un truc à Epitanime, demandez. J'apporterais des trucs à vendre au dépôt-vente d'Epitanime, mais les acheter là-bas signifie que vous ne pourrez pas négocier le prix / avoir une réduction pour un achat groupé / le prix sera plus élevé vu qu'Epitanime prend une commission. J'dis ça, j'dis rien.
De plus, je n'apporterais aucun contenu pour adulte sauf si vous le demandez. Si vous êtes là, vous savez comment me contacter.
Tout est vendu en mode premier arrivé premier servi. Légende :
A : Neuf / Comme neuf
B : Légèrement écorné / éraflé
C : Écorné
D : Endommagé / Vendu en l'état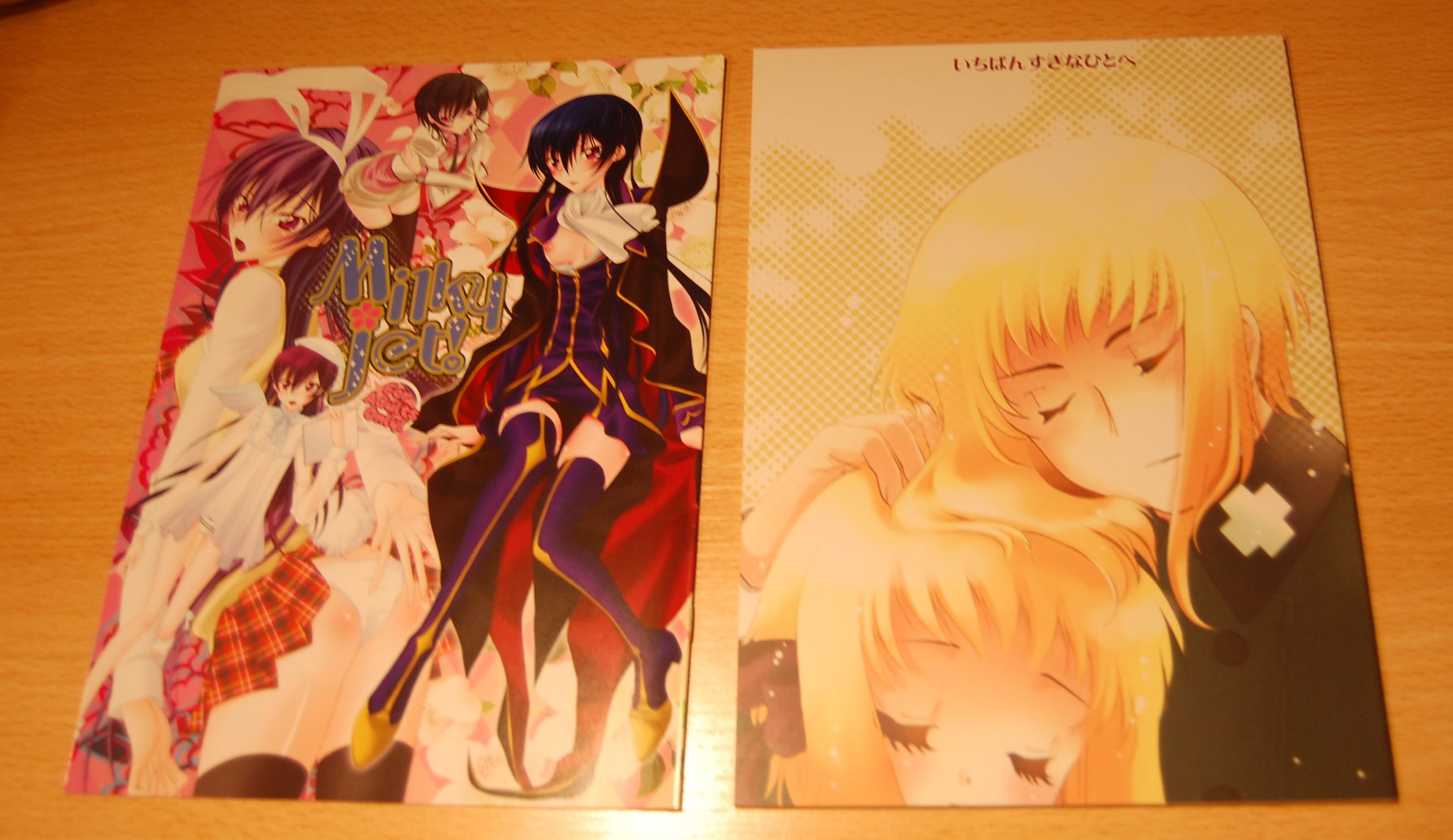 MAX & Cool – Milky Jet (full color R18, genderbending Lelouch) : B – 8€
Pinsize – いちばんすきなひとへ (Hetalia Liechtenstein x Japan) : A – 8€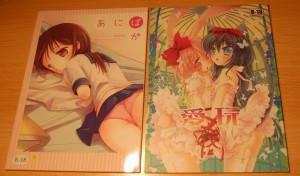 Batsu Freak – Ani Baka (R18) : B – 12€
Pinsize / Oracle Eggs – 愛玩 (R18) : A – 12€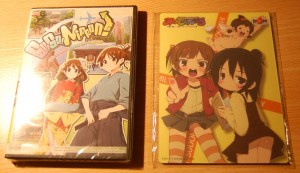 GoGo Nippon : A – 7€ (reserved for the stack of letter)
Mitsudomoe doujin mousepad : A – 5€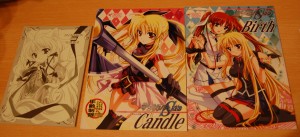 Plum – Plumation 2009 : B – 2€ (2 available)
Plum – Mahou Senki Magical SEED CANDLE (R18) : B – 7€
Plum – Mahou Senki Magical SEED BIRTH : B – 7€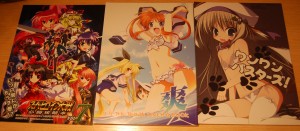 Aperitif – Super Heroine Wars 7 : B – 7€
TFC企画とゆかいな仲間たち – 爽 : B – 10€
Tennenseki – Wanwan Busters : B – 8€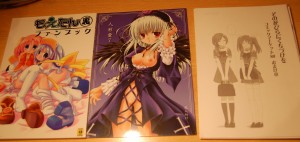 Märchen BOX – Moetan Ura Fanbook (R18) : B – 15€
Ikaruganomiya – Pygmalion Complex VII / Ningyou Ai 7 (R18) : B – 7€
Fuguriya – Random Omake Book from Comiket 80 (only text) : A/B – 1€ (8 available, free if you buy something significant and want one)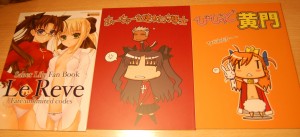 Yakan Honpo & Yakan Hikou – Le Reve Saber Lily Fan Book (R18) : B – 10€
Fukashigi – あーちゃーを連れた魔導士 : B – 5€
Fukashigi – びびっど黄門 : B – 5€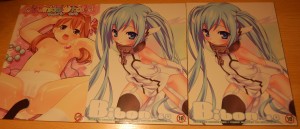 Sniff Dogs – Twinkle Tail : B – 10€ (reserved for the knees breaker)
Chilled House – Bibon vol 6.0 : B – 10€ (2 available, obviously)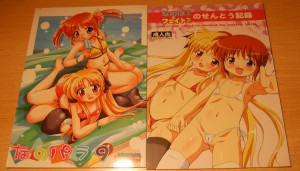 Märchen Box : Nano Para 9 (R18) : C – 10€
Taikan Kyohougumi : Nanoha-chan to Fate-chan no Sentou (R18) : B – 8€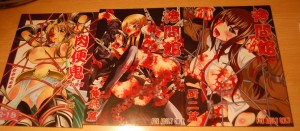 Yuugai Tosho Kikaku –  (R18G) : A – 8€
Yuugai Tosho Kikaku – Goumon Kan Ore Imouto Hen (R18G) : B – 8€ (reserved for baguette in the face)
Yuugai Tosho Kikaku – 拷問館 廚二篇 (R18G) : B – 8€ (reserved for baguette in the face)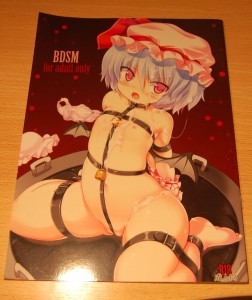 BDSM (Touhou Remilia full color B4 – R18) : C – 10€
Prunus Girl Vol 1 : D – 2€
Da! Da! Da! Vol 1 : B – 2€
Darling Vol1 : B – 2€
Let's be abnormal 1-4 : C-D-C-C : 2€ each, whole set for 5€
Ring 1 (contains vol 1 & 2) : B – 4€
Panzer Princess Punié : B – 2€
Wild School 1-4 : D-C-C-C 2€ each, whole set for 5€
He is my master 1 : B – 2€
Comptiq 2008-11 (no extra) : B – 1€
Dengeki Daioh 2006-12 (no extra) : B – 1€
Dengeki Daioh 2007-02 (no extra) : B – 1€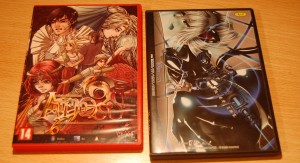 No-Xice – Anamnesis : A – 8€
Close Clothes Cross (Black Edition – R18G) : A – 10€
Corrupt Garden (R18G) : B – 5€
A random doujinshi H CG CD (Suzumiya Haruhi no Yuutsu) : B – 2€
Excel Saga – Elgala : A – 5€
Excel Saga – Misaki Matsuya : A – 5€
Shuffle! – Asa Shigure (Atelier Sai) : B 25€ (with box)
The Melancholy of Suzumiya Haruhi – Asahina Mikuru (Wave) : D – 15€ (with box, AK-47 broken, the rest is fine, with stickers).
Queen's Blade – Tomoe : A (unopened box) – 12€
Queen's Blade – Reina : A (unopened box) – 12€
Both QB figures for 20€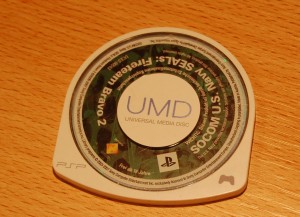 UMD PSP – SOCOM FIRETEAM BRAVO 2 : C – 5€ (no box, tested working)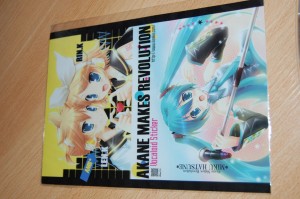 Akane makes revolution – Vocaloid PSP Stickers (sealed) : A –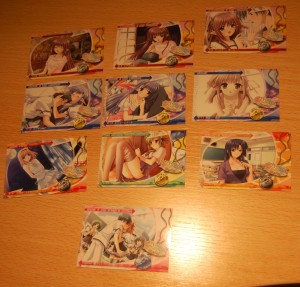 Shuffle! story cards : B – 1€ each, 5€ the whole set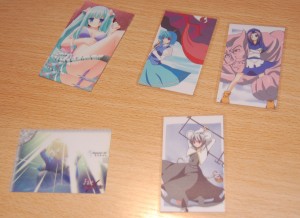 Tora no Ana (2 available), Fate / hollow ataraxia, 3 Touhou cards : B / C / B : 1€ each, 4€ the whole set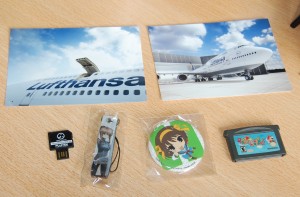 Lufthansa Post Cards : 0.50€ each, free if you buy something else
MicroSD to USB mini adapter : 1€
Steins Gate Suzuha rubber & metal strap : 2€
SOS Brigade badge : 0.50€
Super Mario Advance GBA : 3€ (sold to anonymous)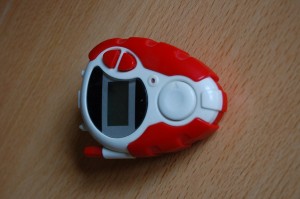 Digivice (Digimon pedometer, without battery) : C – 10€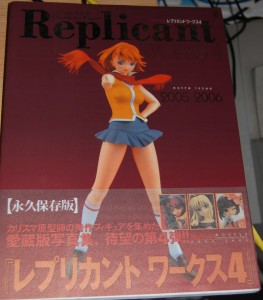 Replicant 2005-2006 : B – 15€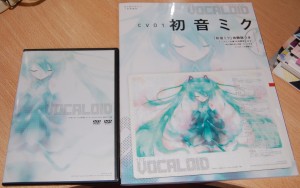 Vocaloid CV1 (magazine + DVD + mousepad) : 15€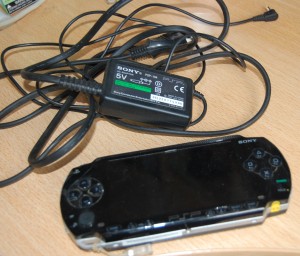 PSP FAT – Joystick is NOT working properly, can be fixed easily (bought a PSP 3000 since I didn't have time for that). Was flashed with CFW and never updated for about 2 years. Sold with original DC adapter : C – 30€
Tenga Flip Hole (first edition). Sealed, new : A – 40€ (I've got second hand ones too, but don't know if you're that interested)
Random ramen from a sex shop (sealed) : A – free lol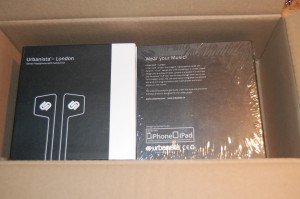 Urbanista London – earphones : both A, one unboxed to check content, one sealed : 20€ for the unboxed one & 30€ for the sealed one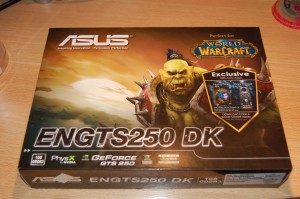 Video Card Nvidia ENGTS250 DK : D (worked last time I used it, 1 year ago) : 30€
128 MB PC133 SDRAM : D (untested) – 2€
512 MB DDR 400 RAM : D (untested) – 5€ (reserved for NFK)
2*1 GB PC5300 DDR2 RAM : B – 10€ each
4 GB PC12800 DDR3 RAM : B – 20€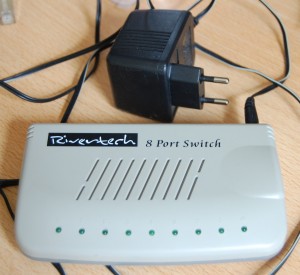 8 ports 10/100 switch, DC adapter with LOOSE PINS : C (due to DC adapter) – 5€
54 / 108 Mbps wifi access point (1 ethernet port), antenna is quite loose, should be fixable : C – 7€
Original Asus Motherboard wifi antenna (should fit anything with universal wifi antenna slot, sealed) : A – 3€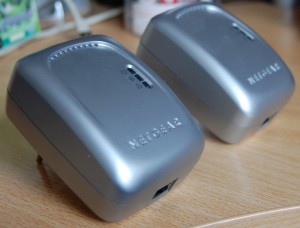 Netgear 14 Mbps PLC : B (with box, ethernet cable if asked for) – 7€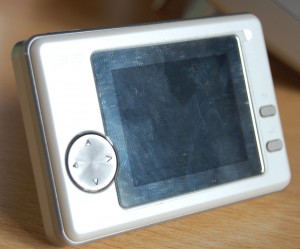 Asus Duo Screen (for Windows Vista / 7 [not sure about 8]) : A (protective screen still in place) – 10€